For the best in alternative healthcare, try a Chiropractor Coon Rapids, MN! We have excellent chiropractic doctors here at Premier Health Minnesota. We treat the whole person in our practice and are dedicated to providing you with the best healthcare around. We are not only trained as a Chiropractor Coon Rapids, MN but we do a full lifestyle evaluation in order to provide you with a treatment plan that strikes at the real cause of what is happening with your health. We offer many services that together as a whole will ultimately put you in control over your life and body rather than it controlling you.

The services we offer you as a chiropractor Coon Rapids, MN are:
Chiropractic Care — our spinal correction and chiropractic adjustments utilize the state-of-the-art chiropractic techniques. We are big on continuing education and our doctors are always on the cutting edge of providing you with the highest level of care achievable in our area of expertise. We can get you relief for back pain, neck pain, headaches and any other conditions originating from the spine.
Massage Therapy – helps relieve musculoskeletal pain by relaxing those muscles that are spasming and causing your spine to shift out of place and it feels great too! We add this as a complementary procedure to chiropractic care as your adjustments then take better and provide more lasting results. In addition, massage therapy increases blood circulation, reduces swelling, increases range of motion in the injured area as well as aiding in recovery.
Lifestyle Advice – after we address any back, neck or other pain, we will go over areas we feel need to be taken into account in order to achieve optimum wellness. If you have any particular health challenges, we will go over ways to prevent aggravating these areas. We want you to have the lifestyle you envision for yourself and the freedom to engage in the activities that make you happy. We contribute our expertise in order for you to reach your health & wellness goals.
Nutritional Counseling – one cannot address the total health and wellness of the individual without taking into account what the body needs to function in its optimal state. We will do a full review of your nutritional needs and requirements, make any recommendations on supplementation and provide you with a nutritional program designed to help take your health to the next level.
Our Chiropractors Treat Many Conditions
Since adjustments normalize nerve function, chiropractors may give care simply to enhance overall health.
Common conditions and complaints often treated by our chiropractors include: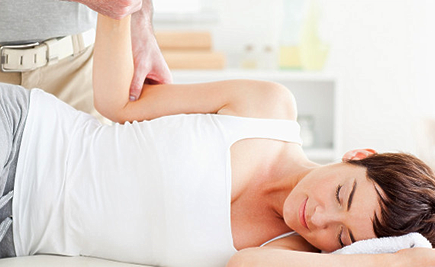 • Headaches
• Muscle spasms
• Neuralgia
• Rib and chest pain
• Sciatica
• Most disc disorders
• Numbness
• Low back pain
• Tendon pain
• Scoliosis
• Shoulder, neck and arm pain
• Some stress disorders
• Some asthma and allergy disorders
• Ankle sprains
• Carpal Tunnel Syndrome
• Tennis Elbow
• Jumper's Knee
• Rotator cuff injuries
• Cranial dysfunction
• TMJ